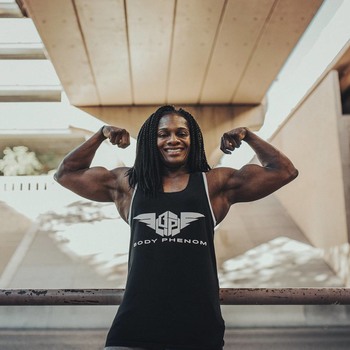 As elite Women's Physique athletes go,
Tomefafa
"Tome"
Ameko
, is pretty modest. Her social media posts are rare, she has not (to my knowledge) ever put herself forward to any of the big schmotography sites, and perhaps because of that, she receives relatively little attention compared to her Physique Olympian peers. Oh yes, didn't you know? She's been to the Olympia, debuting last year. She's also finished in the top 10 at the Physique International (also last year), and at the Optimum Classic Pro last weekend, she secured her second pro title and another Olympia invite.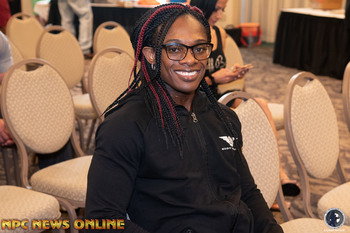 She started as a Bodybuilder, at first a young Lightweight who we find listed in 2004 winning her class at the Excalibur Championships. The first images we see of her date from the same contest three years later, her premium genetics already in evidence.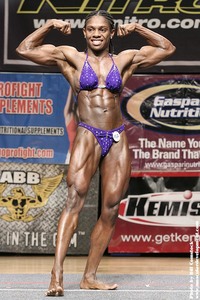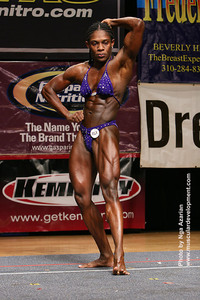 The Lightweight Bodybuilder: 2007 Excalibur Championships
She would win her class again the following year at the Los Angeles Championships, and in 2009 (now a Middleweight) she competed at national level for the first time at the NPC USAs. It took her five years and six shows to gain her pro card, which she got for winning her class - a decade after her first contest - at the 2014 NPC Nationals.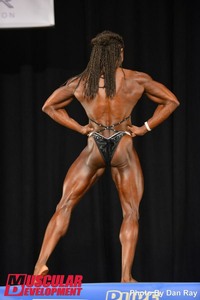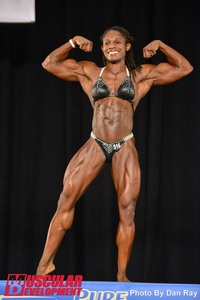 The Middleweight Nationals' winner, 2014
Immediately - as any sensible non-Heavyweight Bodybuilder would do - she switched to the Physique division. Lean and muscular on her Physique debut at the Europa Phoenix in late 2015, she placed 11th in a very competitive field. 2016 started better with a top 6 finish in San Antonio, which she followed with a return to Phoenix, this time to win her first pro title, a title that came with qualification to the 2017 Olympia.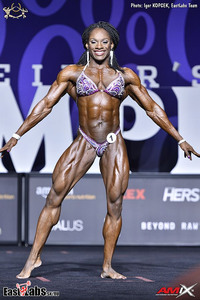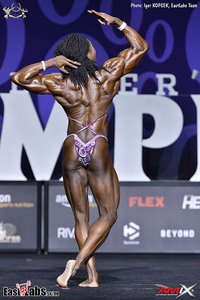 The Physique Olympian, 2017
Impressive as she looked, she failed to place, a top 10 finish at the Arnolds earlier in the season was probably a fairer reflection of where she is at in the elite Physique world right now. Her second pro win at her first show this season strongly suggests that too, and though - by all accounts - the judges last weekend had it close after the comparison round, there was only ever going to be one winner after the evening show.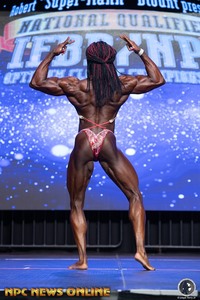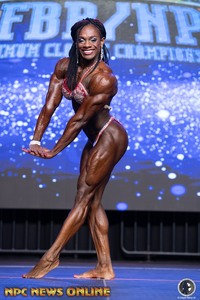 Mmmmonique Jones
had put together the routine for this show, "working magic on my clumsy ass" as Tome (modestly) put it.
Winning the Optimum Classic last night was an incredible experience,
she added.
I love this event and it's always wonderful to share the stage with so many beautiful athletes that share a passion for our sport.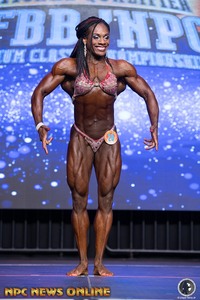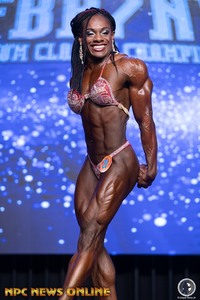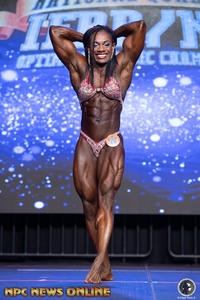 Beautiful and passionate they may be, but on this occasion none could match the sweep and definition in her quads or her bulging, vascular shoulders. Nor could they match her abs - as always - tight and hard, her ever more impressively wide lats, or the thickness of her gorgeous, beefy pecs. She'd be far too modest to say so though.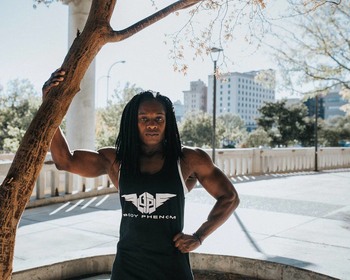 Follow
Tome on Instagram
- just don't expect regular posts!