Fasten your seatbelts as we continue our countdown with another 20 women who you the readers think were among the one hundred hottest and hardest in 2013.
THE FMS
HOT AND HARD 100
80
ATHENA SIGANAKIS

IFBB Pro Bodybuilder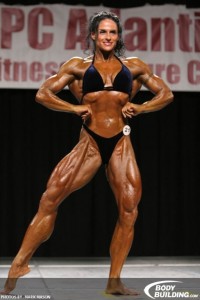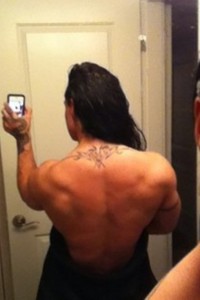 This year, Athena competed as a pro for the first time since 2009, finishing in the top 6 in Toronto. From Montreal herself, this teenage rhythmic gymnast has a bit of a thing for snakes. Really! Check out
her Instagram page
if you don't believe me!
79
JAMIE PINDER

2013 IFBB Chicago Pro Physique champion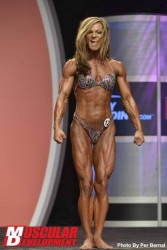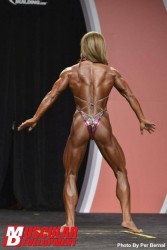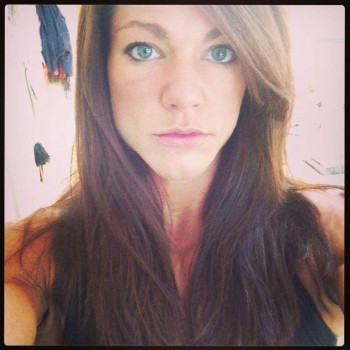 FMS
first came across Jamie at the beginning of last year (see
Hot Hot Heat of the Day
), and she's been a favourite ever since. We think she epitomises the beast in the gym, beauty on the stage vibe that all the best physique competitors seem to have, and consequently we're really looking forward to more Jamie in her second year as a pro.
78
CYNTHIA COLON

Pro Bodybuilder and Leg Goddess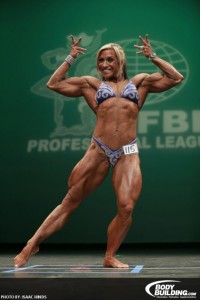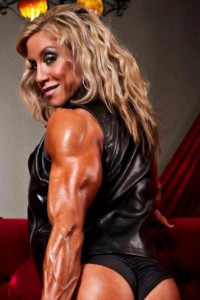 Did you, like me, think she was from Brazil or Italy or Colombia or something or was it just me? Turns out, as I only discovered when compiling this post, New Jersey was the correct answer. I must have been distracted by those legs... Anyway! Cynthia says,
I will never say I'm the best at anything. But I will try my best at everything!
77
MARIA GARCIA

Spanish figure competitor, strip club owner and exotic dancer
I get the feeling from the forums that if I'd asked for votes a month or even a couple of weeks later than I did, then
Maria
José
Garcia
Sanchez would have finished a LOT higher than 77. Female muscle fandom seems to be on the cusp of falling absolutely and insanely in love with Maria. Could it be her sexy muscle appeal? Creo que sí.
76
GAL FERREIRA YATES

International fitness model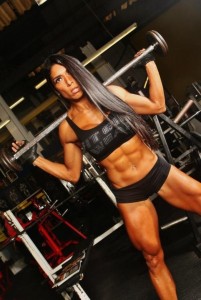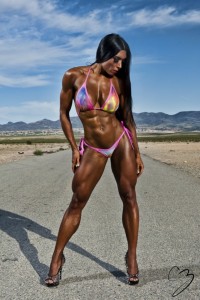 As she's Mrs Dorian Yates, there's a temptation to claim her as a Brit, but even after only the most cursory inspection of Gal, it should be clear to anyone that she's Made in Brazil. With a little help from Britain... No? Well, then what about
Andrea Brazier
?
75
MONIQUE JONES

2013 IFBB Chicago Pro Bodybuilding champion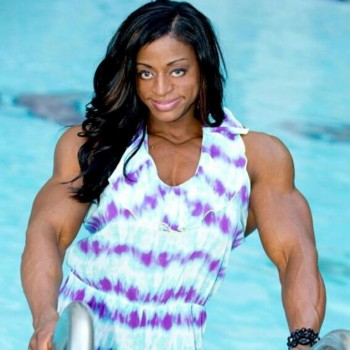 In 2013, Mmmagnificent Mmmonique and mmmouth-watering mmmuscles deservedly won in Chicago for the second year in a row, and followed it up with a third consecutive top ten finish at the Olympia. Some great contest shots. And meanwhile the size of her in some of her gym selfies had female muscle lovin' pulses rising dangerously high. Great shots there, too. But Swell really really likes Mmmonique glammed up. As you've probably just guessed. And we had to let him choose the Mmmonique pic because he needed placating. She is way
way
higher on his list.
74
LISA GIESBRECHT

IFBB Pro Bodybuilder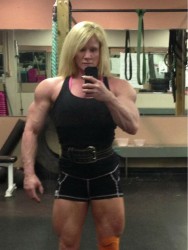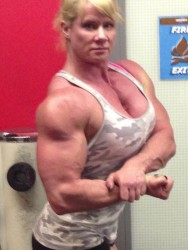 After making such an impact in her first pro year,
Lisa
"Ironworks"
Giesbrecht
seems to have spent 2013 focusing on her personal training business. And
GROWING!
73
JENNA BROWN

NPC Figure/Bikini competitor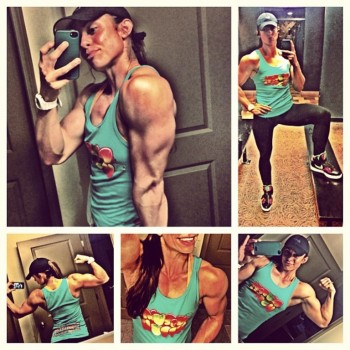 Swell's been digging her since May last year (
FMS passim
). She's so incredibly ripped in some of her pics it almost beggars belief that she's a self-confessed cookie addict.
72
BETTY VIANA

Former Ms Olympia runner-up, IFBB Physique competitor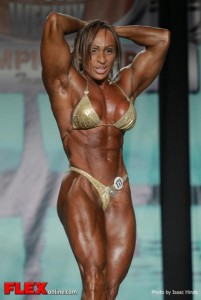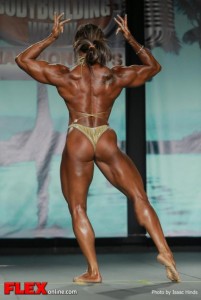 An enduring fan favourite, Betty made her physique debut in 2013. Honestly, I don't think she looks bad at all. In fact, I think she looks great. Not the Betty we all fell in love with, but still... Seems we can forgive bodybuilders who downsize after all.
71
SELMA LABAT

São Paulo bodybuilding champion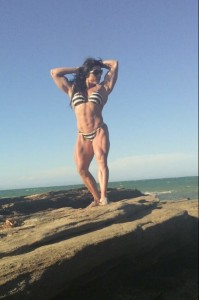 I know, I know. Sizzling
Selma Labat
already and 70 more women to go!
Well, I did warn you to fasten your seatbelts, did I not?
70
HAYLEY BRYLEWSKI

Britian's Muscle Princess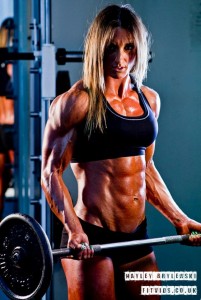 We've already had a little bit of Hayley this week (see
FBBUK@ the Arnold Amateur
), and thanks to your votes, we're having a little more. And
FMS
promises there will be plenty more of Lincolnshire's finest in the very very near future.
69
OKSANA BALANYUK

Figure competitor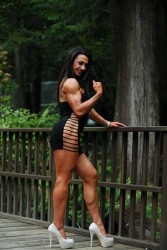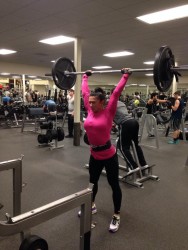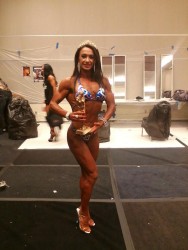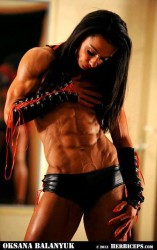 Beautiful Oksana is Ukrainian-born but now resides in the US.
FMS
nominated her as our
Abs to Watch
earlier in the year, and we haven't changed our minds about that.
68
SHAWNA PIERCE

2013 NPC Masters Nationals champion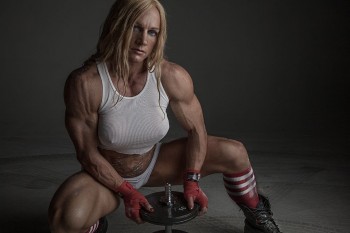 Mate of
Rene Campbell
, and an
FMS Woman of the Year
,
Shawna Pierce
became
Shawna Strong
in 2013, and the results, to this fan anyway, were breathtaking.
67
HELLE NIELSEN
Quadmachine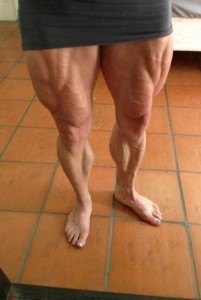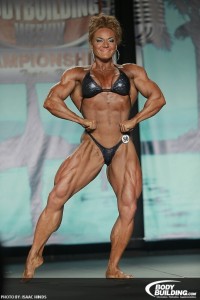 Her legs aren't getting any less freaky! And her passion for bodybuilding burns brighter than ever.
My fans are asking me why I'm not at the Arnold's Classic as usual this weekend,
she posted on
her Facebook page
recently.
Here's my answer: Bodybuilding is my passion. Bodybuilding is my lifestyle. Bodybuilding is my job, my hobby, my journey. Bodybuilding is my life's biggest love. Anyone who supports, loves and values bodybuilding has my loyal support. Nuff said...
Yeah!
66
MELISSA SARAH WEE

Dana Lynn Bailey
fan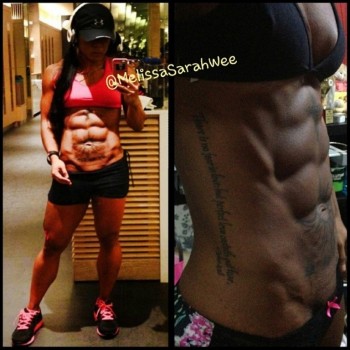 This year we learned how
FMS Abs Queen
Melissa had first been overweight as a teenager, and then developed bullimia, before conquering her eating disorders through weight training.
I started to see changes in my body quickly. My body fat lowered, and for the first time in my life I saw my abs. I was ecstatic.
And I think that pretty much sums up most fans' reactions on seeing her abs for the first time.
65
CATHY LE FRANÇOIS

Female bodybuilding legend
64
ANNE FREITAS

Brazilian female muscle beast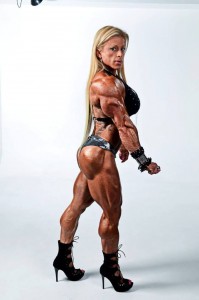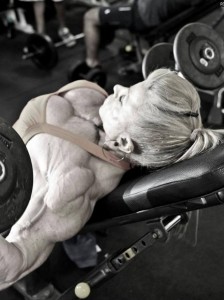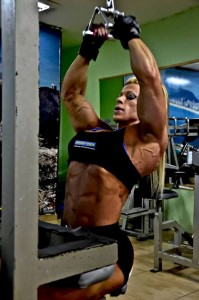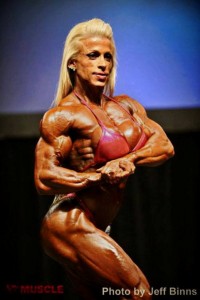 Another year for her as one of the world's top pros. Described by one voter as having
the most incredibly erotic muscularity of any female bodybuilder in the world today,
Anne will, we hope, continue to give IFBB judges a headache in 2014.
63
YAXENI ORIQUEN

Ms Olympia legend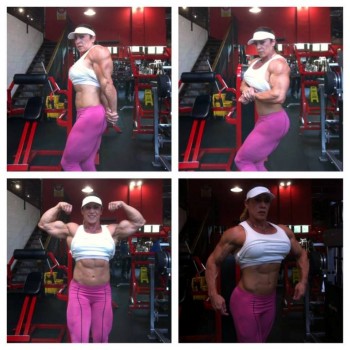 An all-time great. Twenty years as a pro this year, and still at the top of the game, Yaxeni would probably have been top 3 if this poll had taken place ten years ago. Nevertheless, she still finished number 1 on one voter's list.
By now I think I've reached 600 loads of HAPPINESS
[with Yaxeni], he says. And, probably most pleasingly to Yaxeni herself, in this competition at least, she beat Iris!
62
SARAH BACKMAN

Armwrestler turned WWE Diva "Shara"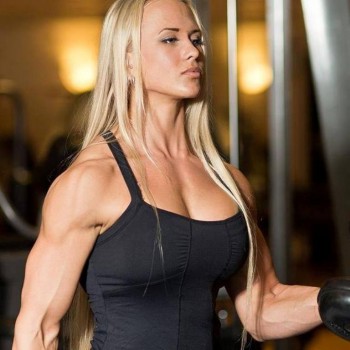 Potentially the biggest star on our whole list given that her WWE career looks like it's about to take off, perhaps it'll be Sarah who'll go from
FMS
to
the FHM list
this year.
61
DENISE RODRIGUES

Figure competitor and fitness model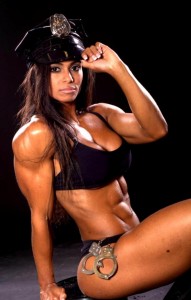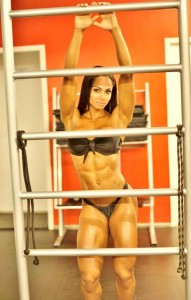 Yet another Brazilian - but by no means the last we'll be meeting on our countdown journey - brings today's post to a groin-tingling conclusion. Relax now. Take a break. Breathe... It's not going to get any cooler or any softer tomorrow as we bring you another 20 godesses who made it onto our list of Hot and Hard Women.
Enjoy!